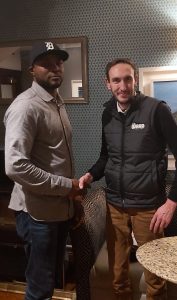 Due to the labour shortages in the Irish Construction sector there are increasing numbers of overseas workers now working in the industry. This is a very welcome development and is key element in the overall strategy to supplement the local Irish workforce, to ensure that there are enough construction workers available to meet the industry demand.
At Ward Personnel we employ workers from a broad range of nationalities and we try to support our workers to integrate into Irish life and to then help them to develop their careers in the Irish construction industry.
In our latest blog series, we are profiling some of our overseas workers who have chosen to live and work in Ireland and to highlight some of the challenges they have faced along their journey.
Our first blog features David Kokoa, originally from Ghana, and now working in the Construction Industry in Cork. David has been working with Ward Personnel since June 2021 and is a highly valued member of our site workforce and has received great feedback from a range of client sites over the last 2 years.
Recently Shane Leamy, Account Manager in our Cork Labour and Trades division, sat down with David to hear a little more about his story and it certainly is a fascinating one.
David's backstory
David was born in Ghana in 1981 and is from very large family (even by Irish standards!) with twenty brothers and fifteen sisters. After completing his initial school years he completed a three-year apprenticeship in carpentry which was a great introduction to construction. He then proceeded to work in construction in Ghana as a carpenter for nearly fifteen years on various projects. For economic reasons he decided to move abroad and so began his journey which would eventually lead to Ireland.
David registered with a specialist agency in Ghana that helps workers to relocate to a new country including help with navigating the visa process. He originally planned to move to Toronto in Canada but wasn't successful with the visa application so that plan had to be abandoned. Looking back David feels that the Canada failure was a blessing in disguise.
Ireland was next on the list and while it was not an easy process he did get the chance to move to Ireland in 2015. It was a long and expensive process and in David's own words , "not always are you successful and can spend a lot of money but get nowhere".
Luckily when David first moved to Ireland he had a friend in Dublin where he was able to stay for two weeks before he moved into asylum seeker accommodation in Dublin. He moved to a Cork asylum seeker after two months and he feels this was a lucky break as he has since made Cork his home. David also met his partner over this period and they now have two happy and healthy children who were born here and Cork is now their family home .
David's path to and experience of working in Construction in Ireland
David initially struggled to find work when he arrived in Ireland due to the work permit criteria and system, which is bureaucratic and time consuming. David eventually received his work permit in 2020, and while his first job was in security, he really wanted to get back into the construction sector and to use his experience and skills that he had learned in Ghana to earn a living and to make a positive contribution to Irish society and the Irish economy.
Through a combination of word of mouth from his network and some internet research David came across Ward Personnel, made the initial call and so began his work journey in the Irish construction sector.
After completing his safepass and manual handling training David started working for Ward Personnel as a 'Gate Attendant' on a construction site in Cork City centre and this was his gateway back into construction. Over the last 2 years David has worked on a variety of sites and roles for Ward Personnel in Cork and has received excellent feedback from a range of clients over this period.
To quote Shane Leamy, Account Manager at Ward Personnel " David has a terrific attitude and work ethic and this shines through wherever he goes and clients really appreciate and value David's work. With the current construction labour market shortages its great to have more overseas workers available to supplement our core Irish site workforce".
Life in Ireland for David
David enjoys his family life in Ireland which is very different to his native Ghana. He has eventually got used to the weather but doesn't mind admitting that he sometimes misses the warmer climate of his homeland. David finally got to go home to Ghana for a visit in 2022 and this was an emotional but very rewarding experience to see his family again, particularly his mother..
David plans to continue working in the construction industry in Ireland and to continue to upskill. Next on the agenda is more training to eventually get a Loadall and site dumper ticket so its upwards and onwards from here.
David's future is firmly set in the Cork construction industry and here at Ward Personnel we are delighted to have such very hard working, capable and enthusiastic worker on our site workforce to support our client's needs. David's journey has been a long and difficult one but his persistence has paid off and the future is bright for him and his family.