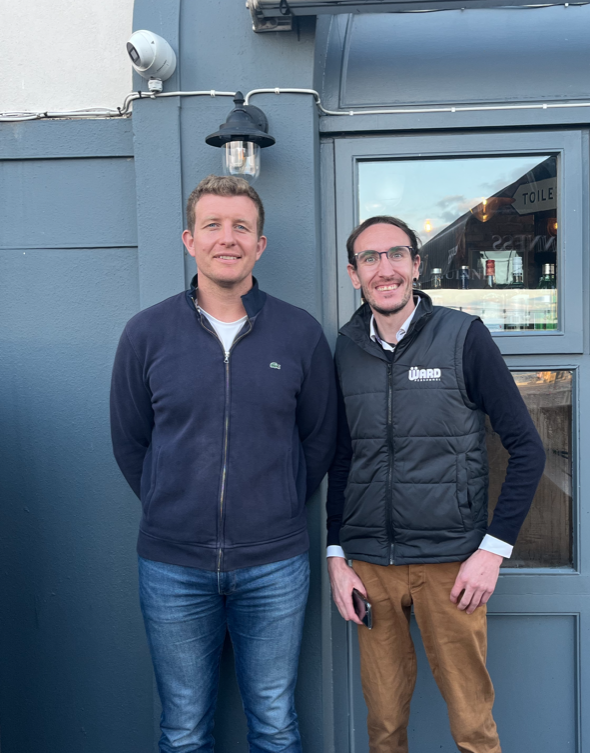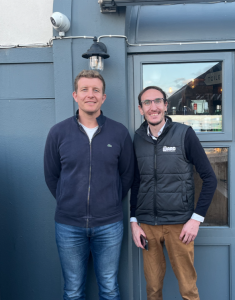 One of the great things about working in the construction industry is the opportunity to meet and mix with a great variety of people working in the industry. At Ward Personnel we try to promote the positive aspects of working in construction and the opportunities that exist to develop a great career within the sector.
In our latest blog series, we profile some sportspeople who have chosen the construction industry as their career, and we find out a bit more about how they manage their work life while continuing to play sport at a high level.  We also get their views on how as an industry we can attract more secondary school students to consider a career in the construction sector.
This blog features Bill Cooper, Cork midfield stalwart and Munster Championship winning hurler, who recently sat down with Shane Leamy, Account Manager at Ward Personnel, for a chat and Q&A about his career in the construction industry and the links to this sporting career.
Bill Cooper – Cork Hurler
Working in the construction industry is fast paced and mixing playing sport at an elite level and a career in construction is a busy combination.
Youghal native, Bill Cooper, played Inter County hurling for Cork for ten years and is still heavily involved in Youghal GAA club. He has had a varied career to date in construction, starting as a carpenter and then moving into project management with his current employer, PM Group.
You started off your career in construction as a carpenter back in 2005, what made you decide to go into the construction industry and to take up carpentry?
"I always had an interest in trades, my father was a mason, and my uncles were carpenters and during the summers when I was younger, I would be helping them out, so I always had a great interest in the trades and in carpentry in particular".  

You've been playing hurling now since you were a child, how did you initially manage to balance life as of a carpenter and play GAA at an elite level with the Cork hurlers?
"It was a challenge but when you are younger you have masses of energy, and I knew no different from going training after working 8 to 5 generally. I'd just bring the gear with me in the mornings and straight after work I'd go to training. It was enjoying what I was doing and there was a great buzz at training so feeling tired was never an issue".
Did it get easier balancing the work life and GAA when you moved away from the tools and took up more of a white-collar office and site-based role?
"It definitely did yes, particularly as I got a bit older. While the physical work as a carpenter definitely had benefits as regards aspects of my fitness but overall, it was a help to my hurling career that I was primarily office based once I moved into the Quantity Surveying side of things. It allowed me to plan my day a bit better and have more energy for training"
What made you decide to leave the trade and go into a more white-collar role?
"When things started to take a downturn around 2009, I was met a with a decision to either emigrate, like a lot of my friends did going to Australia and Canada, or I was going to upskill and go to CIT and take on the course which eventually took me to the role I am in now. I would say that starting with PM Group was a great decision, they provided me with great opportunities as I progressed".

Would you see a difference in construction now, compared to when you were working as carpenter on sites?
"Yes, for sure, when I was working on sites it was towards the end of the Celtic Tiger and we had huge numbers of trades' people whereas no there is a major shortage of crafts people generally. As a result, I'd consider it to be a good time to be in a trade and there are great opportunities for those willing to work hard".
How has your sporting background helped you and what skills did you learn on the pitch that you can bring to your working life?
"I think the communication side of things and being able to communicate very well with people is very similar. Also clearly understanding roles and responsibilities as part of a sports team or construction management team has huge similarities, a lot of what I learned in my sporting career has definitely helped me in my work career".

What would you say to secondary school students who are considering the Construction industry as a potential career choice?

"I would say if you are interested in it then there are great opportunity in the construction sector. There is such a huge shortage of workers in the sector, so I think with that comes great opportunity. I would advise anyone who is interested in it to definitely do their research and consider what would suit them best – be that a trade apprenticeship or doing a construction or engineering course in college – either route is a great foundation to build a career in the industry."
What do you think we as an industry need to improve on as regards attracting more construction workers/apprentices/trades/professionals into the industry to address the skills shortage?
"I think we need to communicate better with students at secondary school in relation to the great opportunities that exist within the construction industry to build a great career and the variety of roles that are available within the industry, both in Ireland and abroad. I think the other key point is around upskilling – sometimes we do not push this enough and also the financial rewards need to be higher to ensure the incentive is there – for example a trades person should be earning much more than a general operative in my opinion but under the current SEO agreements the gap is not wide enough and this could be reviewed to encourage more workers to continue training and upskilling throughout their careers – ultimately the industry as a whole will benefit if we can make this happen".