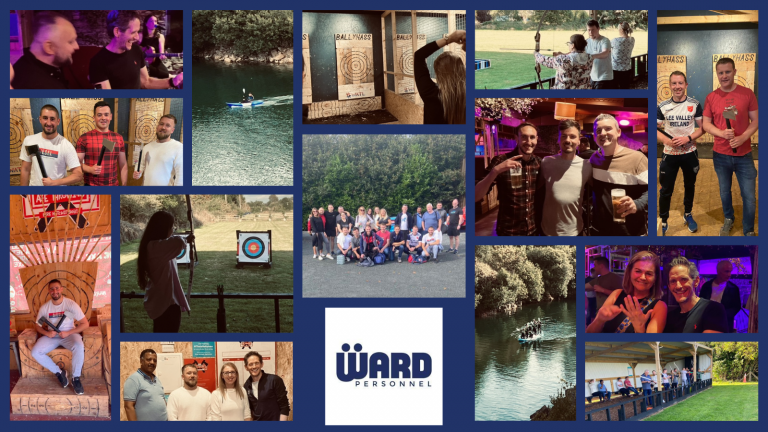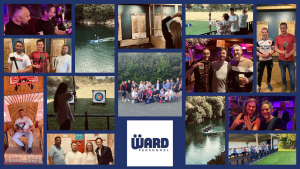 After 2 years of Covid and a few false starts, the Ward Personnel staff team finally got together for a team bonding day and night out on Friday the 23rd of September. Luckily, the fact that our "summer" day out didn't actually happen until September had no impact as we got a lovely sunny afternoon in the wilds of North Cork.
Ballyhass lakes and adventure Center, outside Mallow, was the venue for the afternoon activities and it was a terrific afternoon all round at a great venue. The first pleasant surprise was our Dublin team making it there on time – normally once they leave the pale, they struggle on the country roads !.
A few hardy souls headed for the kayaking on the lakes while most of the team stayed on dry land for a mixture of activities including Archery and the novel sport of Axe Throwing which proved to be extremely popular. After some intense and close battles, it was our Croatian sharpshooter Aleksa Bugarski who triumphed as the Axe Throwing champion. In the Archery, Dave Ward couldn't quell his competitive spirit and took the honours, while on the water our West Cork warrior Anthony Hurley proved unstoppable !. The photos attached show the team in full swing during the day.
The festivities continued into the evening with a great night of quality food, a few sociable beers, and loads of dancing and laughter throughout the night at Clancy's bar in Cork city.
All in all, a fab day out with a great bunch of people and special thanks to the organising team led by Wendy Daly for making it all happen!.