The team at Ward Personnel were thrilled to help with the labour requirements for this project in Mitchelstown in July where the DIY SOS team took on the mammoth task of renovating 6 houses that were donated by The Church of Ireland to support the housing needs for Ukrainian refugees.
The staff and workers at Ward Personnel had already run a fundraising campaign in March that raised over €5K for the UNICEF Ukraine appeal but when we heard about this project, we wanted to support it in any way we could. David Ward commented "We felt that it was a great project and given that we had a new Ukrainian staff member, Alexandra Polkovnikova on our recruitment team, and that we had a number of Ukrainian construction workers on our site teams it was an ideal project for us to get involved in and support".
Overall, we supplied 7 workers to the project at no cost, which was a combination of our site workers and our own recruitment staff. Oleksandr Kulyk, originally from Ukraine, and Arunas Rulevicius gave tremendous commitment over the course of the 10-day project and did sterling work on the grounds and internal renovations. Over the course of the project Oleksandr was in touch with his family back in Ukraine and it was a proud and emotional moment for him when the project was completed. Special word of thanks to our client, Cahalane Brothers Limited, for releasing Oleksandr to work on this project with us.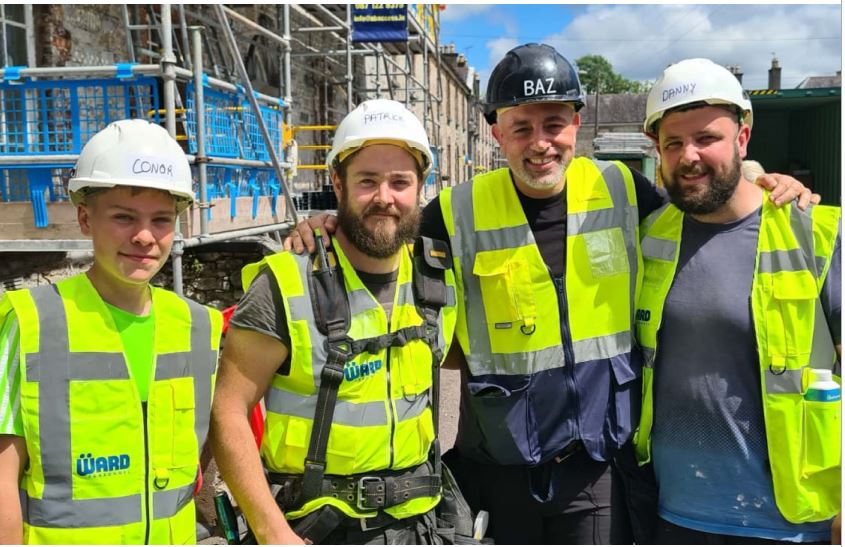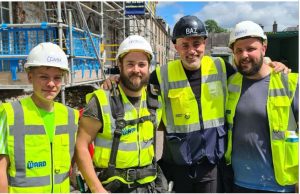 Also, thanks very much to our team of 3 carpenters who saved the day by joining the team at short notice at the latter end of the project to help get it over the line. See the attached photo of the lads, Patrick O'Connell, Daniel Falvey and Conor McCarthy with Baz Ashmawy on location at the site during the works.
Our own staff members, Peter Abernethy and Rory Dean, swapped their phones and laptops for hard hats and hammers to lend a hand over the weekend on their days off – their hard work was greatly appreciated even if the message was to stick to the day job lads! – Fair play to them for giving up their time to help with this great cause.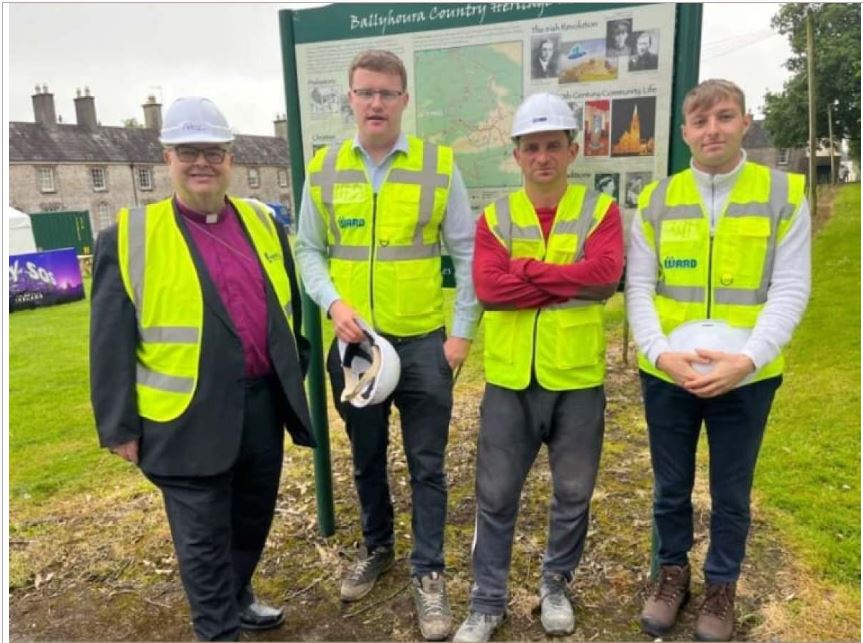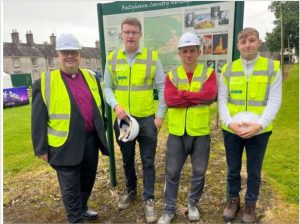 See attached photo of Peter Abernethy with Bishop Paul Colton (who was instrumental in making the houses available for this project). Also in the photograph are James Harrington from Ward Personnel and Oleksandr Kulyk from Ukraine.
A final word of thanks to the crew at the DIY SOS team – Sinead, Siv and Sophie were a pleasure to deal with and made the whole experience an incredibly positive one to be involved in for all at Ward Personnel.
Overall, we were delighted to be able to support this project and we hope that the houses will have a lasting legacy to support those from Ukraine needing housing due to war circumstances that have devasted their normal day to day lives.
https://www.rte.ie/player/series/diy-sos-the-bigger-build-ireland/10001243-00-0000?epguid=IP000068275
#WardTeam #BuildingFutures